Upwork is a great place for freelancing. You can add some part time income to your usual work regimen, or you can make a full-time career using leads posted to the freelancing site. Because of its loose requirements, Upwork has also become a target for scammers. Unfortunately, many new freelancers fall victim to these scams. One common scam is the "Google Hangouts" scam (as freelancers call it). Here is how it works.
Bidding for Jobs at Upwork
We'll assume you already have a profile set up and got approved from the Marketplace Quality team. Scammers often target new freelancers in the Virtual Assistant, Administration, and Data Entry categories. IT and Programming are two categories they seem to avoid, assumingly because they know that technology people are familiar with the scam.
It starts with either an invitation or a public posting with very little job information. Here is a real example of a job that was posted by the scammers on Upwork.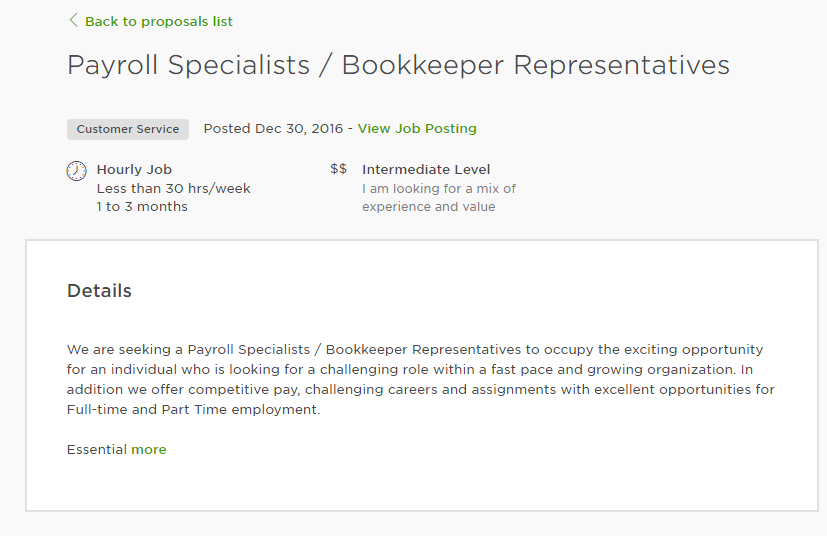 Many times, the attackers use the same job description, so it's even possible you've seen the same job description in the open marketplace. This one is advertised as a Payroll Specialist or Bookkeeper but they use several titles to grab as many freelancers as possible, often posting multiple jobs at once. Once Upwork catches on to their scam, they are forced to change the description to avoid detection.
The red flags in this job description are:
Job description is similar to a full-time position ie. "exciting opportunity" and "challenging role"
Mentions careers and competitive pay, again similar to a full-time position
Mentions full-time and part-time employment
Some additional red flags that you don't see here are:
Wants to hire dozens of freelancers but has no Upwork history
Has a job description marked "urgent" but has no verified payment method
The job poster responds or posts late at night for US freelancers but claims to be in the US (these scams target wealthier countries such as the US or UK)
The Scammers Response in Upwork Messaging after You Bid
It doesn't matter what you bid. The scammer will always get back to you. Here is what they wrote me.
Thanks for your interest in the Payroll Professional/Bookkeeper/Accounting Assistant job. We are bringing to your attention that the first mission of SINCERE HOME BUSINESS is to bring together serious buyers and sellers of all kinds of businesses and that is why we are seeking a knowledgeable Payroll Professional/Bookkeeper/Accounting Assistant to lead the department activities and ensure that the Company's payroll is processed accurately and timely. Do you have a good computer, printer and scanner?
The "Sincere Home Business" name is fishy, but they use real corporations most of the time. The "Sincere Home Business" name attempts to play on the victim's naivety, but they mainly use well-known, big business names such as insurance, healthcare or real estate agencies. When you Google these company names, you'll find that they are a real business. They use these business names to gain your trust.
The real red flag in his message to me is the last line in his message — " Do you have a good computer, printer and scanner?" They will sometimes ask you to purchase the equipment before you start the job. They will send you a check for the amount, and this is the foundation of the check scam.
The Check Scam on Upwork and Google Hangouts
Upwork is the perfect place for scam victims, because most people are desperate for money and don't listen to their gut. Upwork forums are filled with people who at least ask before they fall for the scam, but unfortunately many Upworkers are too eager and fall victim to the check scam. This scam has been around for decades, but Upworkers tend to be naive to it due to their eagerness to earn money and grab their first gig.
Once they contact you, the first thing the scammers want to do is get you off of the platform. Chances are that one person will identify the scam and report it to Upwork, so the scammers want to take you to Google Hangouts to continue the conversation.
Here is an example of the script they use when you join Google Hangouts to talk to them.
mary baker ([email protected])HelloI believe you are here for the job interview and briefings where you will get to know all about the job position as well as the company information and history ?

mary baker (cishealthcare001@gmail.com)Abel this is a chat interview not a video call..Okay?

mary baker ([email protected])I am Mrs. Mary Baker, One of the hiring manager of (CIS-Oncology Healthcare) I would be the one to brief you about the position and the company ..

mary baker ([email protected])THE POSITIONS AVAILABLE ARE : Data entry,office assist,admin clerk,Front desk,sales manager,sales rep,auditing,book keeping,customer care,health care,Marketing, insurance,Executive assist ,payroll clerk,medical biller, dispatcher, vocational rehabilitation counselor,  vocational case manager,medical case manager, case management supervisor, typist clerk,Program Manager,maintenance, Compliance/Risk Manager, Pension Manager, Project Development ,Receptionist and Front desk, Human Resources Manager, Typist Clerk and IT jobs.. positions,others etc
The only difference you might encounter is the name and email address. They always use US or UK companies (in this case CIS-Oncology Healthcare) and US/UK-sounding names.
The real red flag here is the Gmail account. Official, large companies never use free email accounts. They have official email addresses from the domain. Gmail is commonly used by scammers, so your immediate reaction should be that this could not be an official representative.
Also notice that they claim to be a hiring manager. Some of them claim to be in the HR department but their English is very poor. Notice the English in this message is poor, the name isn't capitalized, and they have several full-time positions available. Upwork is a freelancing site. While some companies hire low cost freelancers for 40 hours a week, it is not an employment agency where you will likely find full-time work. Freelancing is a business, so you work with contracts and they usually end eventually.
If you continue to engage with them, they will give you information about the company and turn to question regarding payment, receiving checks, and your bank information. They will offer an inflated rate for the position. In some cases, they offer $50/hour for data entry. This is another red flag. If it's too good to be true, it probably isn't true.
Here is an excerpt of their "payment terms."
mary baker ([email protected])The working hours are flexible and you can choose to work from anywhere of your choice, the pay is $35.00 per hour during full working hours and the training is $25.75 per hour and will be getting your payment weekly via check or direct deposit working 30 to 40 hours weekly, if you are employed you are going to be working as a full employee and not an independent contractor. Let me know if you are interested so we can proceed.?
Notice that they promise full-time work.
They will then discuss sending a check outside of Upwork's payment system.
mary baker (cishealthcare001@gmail.com)• How would you like to be Paid ? Weekly Or Bi-Weekly

What means of Payment do you prefer ? Check OR Direct Deposit ?

What is the name of your Bank you Operate with to see if it tallies with the company's official salary payment account That is needed for documentation and NOTE that the company is not asking for your bank Information but the name of your bank.
They will also ask you for your name, address, city, state, zip code and your cell and email address.
They continue with several questions and will tell you that you are hired within only a few minutes of telling you that they need to get back to you. At this point, they have eager freelancers on the hook.
What Happens Next?
If you give them all the information that they need, the scammers will send you a check. The check is usually thousands of dollars, and then they will ask you to send them the amount that you don't use. The address is usually another one in the United States or the UK to make it seem real, but again it will not be associated with the company address.
The result: the check will bounce and you will be stuck with a negative balance in your checking account. You're also stuck with all of the fees associated with bounced checks. Some banks have a low-tolerance policy and will suspend your bank account permanently for money laundering.
The lost amount is usually in the thousands, and there is nothing you can do to recover the money.
How Do You Avoid This Scam?
If you follow Upwork rules and understand the way payments work, you can avoid this scam 100% of the time.
To avoid getting scammed on Upwork, here are a few rules you should follow.
Never work without an offer sent in the Upwork message system. When you receive an offer, you receive a message that says "<your client name> sent an offer." The offer then has your hourly rate (if it's an hourly job) or the escrowed amount (if it's an escrow job).
Never take any payment off-platform. That includes checks, PayPal, or wire transfers. Only accept payments through Upwork.
After you accept an offer, make sure that the payment method is valid. Upwork sends an email message if the contract is on hold due to payment verification issues. Most customers verify their payment method when they hire you.
Never work without a contract. You know that you have a contract if the job shows in your My Jobs page.
New freelancers are a prime target. Save yourself time and just reject any interviews where they ask for you to go to Google Hangouts.
Ignore jobs posted by people with unverified payment methods but asking for dozens of freelancers to hire.
Remember, if it's too good to be true, it's probably is not true